Citlal Castillo
Citlal Castillo is another of the incredible artisans that we feel destiny brought us to! And we are ever so thankful! After spending our first afternoon in Taxco during the early part of 2005, we had become quite tired and disappointed in what silver designs we had seen that day. We were actually thinking of leaving town early, but decided to try again the next day after getting some needed rest. While not open to the general public, fate nevertheless brought us to the workshop of Citlal Castillo… who had exactly the type of quality craftsmanship, natural stones and originality of design that we were looking for! It has been a match made in heaven ever since! Citlal Castillo comes from one of the greatest families of pioneers in the silver jewelry business, and the name Castillo is one of the premier names in the silver Jewelry trade in Taxco, Mexico. Her uncles were one of the first to study under William Spratling, who has been credited with bringing new life and fame to the silver industry in Taxco. Those who studied under Spratling, achieved the status of masters in the art form. As a result, Citlal has been surrounded by this wonderful artistry since a very young age, and has developed her own very special creativity and niche in the jewelry business. Her creativity has been developed not only by the influence of her uncles, but also by the influence of her mother, Tachi Castillo, a very elegant and well known clothing designer. This combination of influence in both silversmithing and fashion, compounded by Citlal's own university studies in Fashion Marketing, have converged to create an energetic jewelry design business with true creativity of design. You will find that Citlal's designs are both fresh and unique, and her color combinations are perfect! You will also notice that many of her designs are one of a kind, and many were crafted especially for DeSilva Imports!
---
Julia Fuentes and Jose Juan Melchor

Julia Fuentes Santiago was born in the village of San Martin Tilcajete, Oaxaca in 1976. Julia is the daughter of the world famous Master Carver Epifanio Fuentes and Laurencia Santiago. She began painting at the young age of eleven, by helping her parents in the family workshop. Being surrounded by the artistic traditions of her family since childhood, she was inspired to further her own talents as an artist. Julia went on to study art at the prestigious Bellas Artes of Oaxaca, a feat that no other artist of note from the three traditional carving villages has achieved. She graduated as an instructor of fine art in 1999. Julia is a third generation wood carving artist.
After their marriage, Julia Fuentes and Jose Juan Melchor started their own Oaxacan wood carving studio in 2002. They are the parents of two young children, Jonatan and Celeste, whom they hope will someday carry on the rich traditions of their parents and grandparents. Julia and Jose Juan carve Copal wood and then paint stunning animal figures in the style that Oaxaca has become famous for. Jose Juan dedicates himself to the carving of these fantastic pieces, while Julia is in charge of the painting. The couple's work has gained international acclaim for the complexity of their carvings, and for a painting style that reigns at the top of their craft. We applaud the fact that their work shares the familiar folk art feelings of whimsy, color and tradition that their families are known for, yet demonstrate their own individual fine art contributions to the medium.
The animal wood carvings that are the couple's trademark portray a wonderful sense of movement and curiosity. Their painting style is at the top of their field, and reflects an expert level of shading with a sense of graduation in the colors. Although Julia uses her fine art studies to refine the painting techniques found in Oaxacan wood carvings, she honors the traditions that her family is famous for. Most notable is her use of Zapotec Indian symbolism as medallions that often appear on the body of the animal, creating a fusion between the past and the present. One of our favorite of the symbols that the couple uses in their work is that of the Pre-Hispanic owl that the Zapotecs believe is the messenger between humans and the gods. The couple maintains the sense of color and whimsy that these woodcarvings are known affectionately for, but raise the carvings to a fine art level. Their work often combines a beautiful band work reminiscent of herringbone patterns, with a stunning combination of colors that immediately catches the eye. Due to the expert level of craftsmanship, Julia and Jose Juan have been invited to exhibit their work in Oaxaca and Puerto Vallarta, as well as in Texas, New Mexico and California. Their work is carried in major folk art galleries around the world. Julia Fuentes and Jose Juan Melchor are the rising stars of the Oaxacan wood carvings, and their work is sought after by numerous collectors.
---
The Aguilar Sisters
The artistry of Guillermina, Josefina, Irene and Concepcion Aguilar has lent fame to the rural town of Ocotlan de Morelos in the Valley of Oaxaca, Mexico. Folk Art collectors come from far and wide to search out clay figurines beautifully crafted by these magnificent women! But the real miracle began with their mother, Dona Isaura Alcantara Diaz. After marrying her husband and beginning to raise her children, Dona Isaura began earning a living to support her family by making practical pottery used by local people for daily household use, as well as religious purposes. As her talent as a folk artist blossomed, she began making clay figurines of purely decorative use. Her inspiration became the rich scenery of daily market life in her local community, and she began crafting clay figurines of market women in all their daily glory. Although market scenes were her first inspiration, she soon began to expand to other things that happened in the daily activities that she witnessed.
Even though her pieces were collected by such folk art aficionados as Nelson Rockefeller, almost all of the early credit was given to her husband, Jesus Aguilar. This was due to the fact that Dona Isaura, like many of her contemporaries, was neither able to read nor write. Her husband signed her pieces with his own name, and was given credit, even in some museum collections, in the early years for Dona Isaura's work. Upon her death, Dona Isaura had not yet officially been recognized as the true powerhouse behind this unique and beautiful art form.
Much of the beauty of the Aguilar Sisters' work is derived from the legacy and talent that their mother instilled in each of them. If it were not for the wonderful creativity of their mother, the world would not have been blessed with such an amazing art form. While each sister has placed their own special touch on this art form, the influence of their mother is always present, and has been passed on to their own children. When visiting their homes and workshops, you will always find the family working together, each adding their own artistry to the mix. What a blessing to be able to witness this loving tradition! Each sister has grown into a celebrated artist in their own right, and they continue to achieve critical acclaim around the world, as well as numerous prestigious awards. A special treat for us at DeSilva Imports came in 2005, as we were blessed with the privilege of seeing Josefina Aguilar accepting the top award at the National ceramics Awards in Tlaquepaque, Mexico. At this same event, Irene Aguilar's work was also featured. Previous years have honored other members of the Aguilar family as well. It was a definite honor to be present!
---
Porfirio Gutierrez and Family

Porfirio Gutierrez has fast become one of our very favorite artists to work with! His sister Juana Gutierrez is a master of natural dyes, and to watch her at work is to be transported back in time to a period when all of Teotitlan del Valle, Oaxaca was looking to nature to find the colors that would be used in the dyeing of their wool. Sadly, most of the big weavers in town now only show a brief demonstration of natural dyes, while relying on commercial dyes instead. Only about 5% of the village still use the ancient Zapotec traditions of natural dyes, and Porfirio's family is doing what they can to change that and reverse the negative effects that the chemical dyes have had on their community. In recognition of this effort, Porfirio was recently selected as one of only four artists that were recognized as Artists In Leadership by the Smithsonian through the National Museum of the American Indian!! A huge honor indeed, but one that was well deserved in every way. To listen to Porfirio talk about his history and his art form, as well as his amazing Zapotec culture, is to be truly inspired!!
Yesenia Salgado Tellez – Antiguas Maravillas Family Workshop
This Oaxacan silver jeweler is one of our favorite artists to work with! We bring her to every museum show possible, and we are proud to know that we helped secure her visa to be able to demonstrate her intricate techniques in the United States. Although most commonly known as filigree work, her jewelry technique is actually a bit different. It is the ancient technique used in Oaxaca to craft jewelry, and unique in the world of precious metalsmithing. Sadly there are only about five families in Oaxaca who are still practicing their art form on a consistent basis. Yesenia is a powerful and talented voice for the importance of preserving folk art traditions that are rapidly being replaced with the mass production of products without a human hand, nor a spirit of creativity behind them. At only 29 years of age, and the youngest member of her family, she is already winning awards for her precise and lovely silversmithing. She began silversmithing at only sixteen years of age! With her own hands she is able to craft a gorgeous range of jewelry that pays homage to her ancestors and the traditions that were passed on to her by her very own parents. The mother of a six year old son, she also hopes to pass these traditions and skills of craftmanship on to her own child, much the same as her sister Rubi has already done with Yesenia's twelve year old niece Frida. At the young age of nine, Frida won the Best in Show award for a young artist at the prestigious and highly competitive Oaxacan state folk art competition. This was a huge victory for an art form that has been rapidly diasppearing in Oaxaca. It is in large part due to the efforts of Yesenia's family in preserving these traditions that the world is still able to enjoy this beautiful and labor intensive art form. Yesenia's family unites to form the powerhouse metalsmithing workshop entitled Antiguas Maravillas Oaxaquenas, which was founded in 1977 by her father Master Goldsmith Arturo Salgado. Arturo learned these traditions and began aquiring the skills of craftmanship from his oldest brother. Arturo then went on to teach his wife Martha Tellez, who became a Master Goldsmith in her own right. Now all three of their daughters (Donaji, Rubi and Yesenia) are highly skilled artists in metalsmithing and jewelry making, and their grandaughter Frida has led the charge for a third generation! Yesenia is proud to note that her family workshop remains quite unique. Metalsmithing and jewlery making in Oaxaca is traditionally considered a man's artform, but their family workshop now counts five highly skilled females as forces who all seek to bring their family legacy to the world while preserving a rapidly disappearing tradition in Oaxaca. Yesenia's father began his metalsmithing career using gold to craft beautiful jewelry, as this was the metal commonly found in Oaxaca's jewelry trade. But when the price of gold sky rocketed, the family switched to sterling silver to be able to provide jewelry that was still affordable. This is another way that the family has been able to maintain this tradition. The metalsmithing process is much the same as if gold was used, and includes the family's process of smelting the precious metal, forming of their own metal sheets and silver wire, oxidation of the silver, hand forming of each individual piece that makes up the final design, and soldering of these individual pieces on blocks of coal to achieve the final jewelry piece. Each piece is a labor of love, with the most simple of pieces requiring a day's work, while some can take months to finish.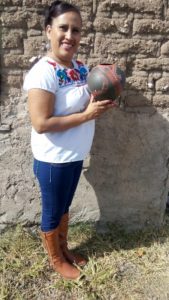 Lila Silveira
Master Potter Lila Silveira, whose full name is Sylvia Edelmira Silveira Sandoval, is a finely skilled representatives of the second generation of potters from Mata Ortiz, Mexico. Lila was selected as one of the top 25 potters in Mata Ortiz when artists were chosen to represent Mata Ortiz pottery through a traveling exhibition that began in Limoge, France. This accomplishment is understandable when you realize that Lila Silveira's mother is Socorro Sandoval, one of the most respected potters in town who is especially well known for her skill at hand building magnificent thin walled pots. Lila was surrounded with a love of ceramics since she can remember. But with a twist of fate, Lila was chosen to study under Juan Quezada, one of the original Master Potters who is credited with the pottery revival movement in Mata Ortiz. Lila was fortunate to study under Juan for two years, as Juan never really taught people outside of his immediate family circle. Juan Quezada would come to Lila's house on a daily basis and teach her all the aspects of his own pottery techniques and designs. Juan taught her how he digs and refines his clay, how he forms his pottery by hand using single coils of the clay, how he sands the pot to create the thin walls and light weight pottery that denotes quality, how he creates his paints from local pigments and minerals that can be found in the surrounding countryside, how to craft their paintbrushes out of long strands of human hair, how he paints his favorite designs on the pottery, how he protects the pot with oil and then burnishes the pots to create a beautiful natural shine, and how he fires the pot on the ground in the traditional manner. Lila Silveira is widely recognized as Juan Quezada's favorite student, and she is proud to carry on the traditions that Juan taught her, always adhering to the highest standards of quality. She admits with notable excitement that to this day Juan Quezada shares his special clays and paints with her, challenges her when he thinks she is pricing her work too far below value, and continues to evaluate her work and provide helpful advice on new designs. Lila Silveira is determined to remain a ceramic artist of high quality and integrity, and is always happy to share her knowledge with those who are interested in learning. Lila has won numerous awards throughout the years at the Concurso, the annual pottery competition in Mata Ortiz. To Lila's credit, she was selected to participate in an exhibition of Mata Ortiz pottery that traveled to France, in Limoge and Paris. She was selected based on one of her more recent designs that she titles Nasip, a half pot with base that is formed by first crafting the entire pot and then cutting out the front side to use in forming the base of the piece. The painting of the inside curved space is incredibly difficult with paint brushes hand crafted of long strands of human hair. Lila Silveira's work continues to amaze us, and we are proud to share her story with you. Lila truly represents the pride of craftmanship found in Mata Ortiz, Mexico
Laura Bugarini and Hector Gallegos Jr
Master Potters Laura Bugarini Cota and Hector Gallegos Martinez are a husband and wife team, and two of the best second generation of potters from Mata Ortiz, Mexico. Both potters learned the art of Mata Ortiz Pottery from their incredibly talented parents, and are keeping up the tradition by teaching their young daughter Paula Gallegos as well. Laura Bugarini was born on March 4, 1979 in Mata Ortiz to Guadalupe Cota and Pablo Bugarini, learning pottery from her mother at the age of 14. Her first inspirations were the ancient Paquime designs, and her initial pots sold for $5 to the tourists who visited Mata Ortiz. Laura noticed that most of the potters were using similar designs, so she began expirimenting with something totally different. After a year of practice she was able to create her own finely detailed band work design, a design that would come to be known as the Bugarini Style. Today Laura is one of the most sought after artists in Mata Ortiz, and her work is considered to be some of the finest art work in the village. Laura Bugarini has exhibited her art work at more than 50 international art shows. Hector Gallegos Jr. was born on November 5, 1981 to Hector Gallegos and Graciela Martinez, both Master Potters famous for the amazing quality and artistry of their work. Hector learned from both of his parents in his later teenage years. Early on Hector quickly moved away from his parents' precise geometric style in favor of etched sgraffito work incorporating finely detailed animal designs. Hector has participated in numerous international art exhibitions. Outside of his ceramic artwork, Hector Gallegos Jr. is also a body builder who has even  competed on an international level. Hector has been the state champion in his category for three years, and was also Mister Cuidad Juarez in 2016. Laura Bugarini won the Outstanding Woman in the Arts for the State of Chihuahua in 2016. Laura is the 1st  woman in Mata Ortiz to win this prize, the highest award in their state across all art forms. In 2016 Laura was inducted into the Hall of Fame of Northeastern Chihuahua, again being the 1st woman artist from Mata Ortiz to be admitted. 2016 also saw Laura and Hector take home the top two prizes in the Mata Ortiz Concurso (annual Mexican Government sponsored juried art show), where Laura won Best in Show and Hector won the Excellence Award for the best piece amongst all previous Best in Show winners. In 2015 Laura won the Gran Premio Nacional del Arte Popular Mexicano, one of the most important national level recognitions for folk artists, and also took home 1st  prize in her category at the Mata Ortiz pottery competition. In 2014, Hector Gallegos Jr took 2nd place at the Foro Nacional de Grandes Maestros y Maestras del Arte Popular, as well as winning 1st place in his category at the Mata Ortiz pottery competition. In 2013 Laura won the Premio Nacional de la Ceramica (Mexican National Ceramics Awards), which is one of the highest recognitions possible for a ceramic artist in Mexico. Hector and Laura also took home the top two prizes at the 2013 Mata Ortiz pottery competition, this time with Hector winning the Best in Show Award and Laura winning the Excellence Award. Previous years include numerous top prizes in various categories during the annual pottery competitions in Mata Ortiz!
Mario Castellanos and Reina Ramirez
Mario Castellanos Gonzalez was born in the village of Arrazola, Oaxaca in 1973. Mario is a first generation wood carver who, unlike many, did not learn this tradition from his parents. Mario began  carving at the age of 18 out of economic neccesity, and began learning alongside his younger brother in their cousin's carving workshop in 1991. Now after having dedicated 25 years to his craft, Mario is recognized around the world as one of the very top wood carvers in Oaxaca. He has a magic touch, able to create beautiful and whimsical figures full of an incredible sense of movement, often out of one solid piece of Copal wood. The sense of movement in a carving is one of the ultimate signs of quality as it is so difficult to properly achieve, and Mario is an undeniable master at this technique! Reina Ramirez is Mario's wife and she has been painting for 28 years. Her experience is reflected in the precision of her paint designs and the beautiful mixture of colors that she favors. Mario and Reina are also the parents of three children, Yovany, Ivan and Lizbeth, two of whom help them craft their carvings in the family workshop. Mario has demonstrated his art techniques throughout Mexico, including at the world forum on arts and crafts, as well as at the Kingston High School in New York and a community exchange with San Jose State University of California. Mario continues to feel strongly about and participate in reforestation projects, and is a member of the community group EcoAlebrijes in Arrazola. Mario is a representative for the community of artists from Arrazola and San Martin Tilcajete by the name of Tonas de Oaxaca, who are seeking a trademark for their work due to the influx of imitation pieces being produced in countries such as China. The animal wood carvings that are the couple's trademark portray a wonderful sense of movement and curiosity. Their painting style is at the top of their field and reflects an expert level of shading, using a banded design format often featuring symbolism central to the Zapotec Indian culture of Oaxaca. Mario and Reina's pieces are eye catching works of art that are notable both for their actual carving and for their cheerful painted designs.  Mario loves to carve all types of animals, constantly experimenting with something new, but his favorite subject continues to be the iguana. Mario loves the lizard figures for the degree of difficulty in the curving and coiled tails. He says that the different types of lizards and their differing positions give him goals to achieve in the advancement of his skills, and he thoroughly enjoys playing with winding the coiled tails to the best of his ability in different styles. As a result Mario first became famous for his amazing iguanas. One look at them and you can readily see why. But in all honesty, we find all of his work to be artistic, original, well thought out and full of intricacy.
Jacobo and Maria Angeles
Jacobo and Maria Angeles join forces to create the perfect union of perfection in woodcarving and intricacy in their painting techniques. Whereas may of the female painters often take a backseat to the men who carve the pieces, Jacobo and Maria realize the importance of teamwork and mutual respect. As a result, all of their pieces are signed with both names, and they collaborate equally on all the pieces they artfully craft. Although relatively young compared to other woodcarving artists in their community, they are extremely talented, and their level of craftsmanship is actually superior in many ways! Their pieces demand a very high price, and are displayed in museums and galleries around the world! Jacobo and Maria can often be found in the United States, in museums and in classrooms, and enjoy sharing their artwork and teaching others. Jacobo and Maria's art form can be distinguished by not only the expertise of master level woodcarving, but also in the intricacy of the painting of each piece. The painting technique is beautifully reminiscent of the fine brushwork of Native American designs. Jacobo and Maria hire and train young people from surrounding villages in need of employment, and provide a much needed source of both employment and artistic development. It is a joy to watch the whole extended workshop in action on a daily basis!
---